Best Forex Trading Account award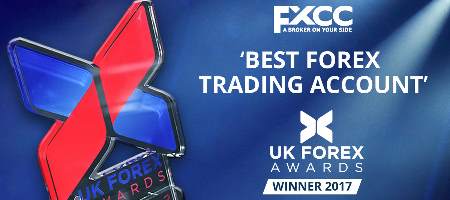 The UK Forex Awards prestigious ceremony was held in London on September 27th, at the imposing Medieval Crypt in Holborn and FXCC was honored to be announced the winner of the award "Best Forex Trading Account" of 2017. The award win, which was independently voted for by traders themselves, is testament to FXCC's ongoing efforts to develop and invest in its retail offerings to the benefit of its clients.
The annual awards celebrate the best performing companies who operate in the UK forex markets. Both traders and the private investment community, had the opportunity to cast their votes for those companies who have consistently performed to the best of their abilities, marking the UK Forex Awards as a unique, independent event.
In the organiser's words; "The awards reward those companies championing cutting-edge technology, low-cost trading, comprehensive market research tools, advanced educational programmes and world-class customer service."
Saed Shalabi, General Manager of FXCC, commented: "We're delighted to receive this prestigious award, in recognition of the efforts we've made to establish FXCC as one of the recognized, premier forex trading firms available to UK based traders. Since day one we have been striving to ensure we have the most customer centric proposition in the industry, committed to delivering competitive pricing, via the fairest and most transparent order process, in the retail forex trading market. Our main concern is our clients to succeed and specifically with the ECN XL account, we managed to exceed our clients' expectations, by providing a mixture of VIP level of service and low cost trading."
"The fact that the transparent, independent voting process, which the UK Forex Awards have pioneered, ensures that it's forex traders and active private investment community, who ultimately decide the destination of the awards, attaches extra significance to the awards. We remain committed to delivering the very best in terms of customer services as well as looking into our next steps and what we can do to further expand our offering to clients."
---
Source link
Presented by
FXCC
Related Columns
---